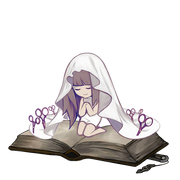 Book of Celia is an exclusive collection for Deemo ~The Last Recital~ only. All these songs here are composed by Eshen. Artworks are done by Siyouko.
This collection has the least number of songs.
All of these songs were composed by Eshen.
All of the songs in this collection have the same level in Easy.
If a player gets an All Charming or Full Combo on any song and level, the artwork changes from Masked lady's face being seen as whole to parts of her mask covering her face.