Welcome to Deemo Wiki!
Feel free to contribute and grow our tree!
Deemo (stylised as DEEMO) is a piano-based rhythm game created by Rayark Inc., an independent game developer in Taiwan. The game is available on mobile platforms, both iOS and Android. A sequel, Deemo II, is in development.

There are also other products in the same franchise: Deemo -Last Dream-, Deemo: The Last Recital, Deemo -Reborn-.
Deemo -Reborn- is now available for iOS and Android!
Pre-register for Deemo II now on Google Play and iOS!
Deemo: Memorial Keys Official Website
Deemo 4.2 has been released - 1 new free collection added!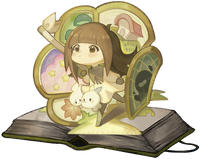 New update for Deemo -Reborn- - 3 new collections added!
Blogs
Hi all, the document that can be found below are the note counts that hasn't been implemented to the wiki. As I have said before, I will not make mass edits on this wiki, so if you have decided to get to it, you could use it as a reference to give y…
Hi all. As you may know there are currently no editors in this wiki except me, so I will stop editing this wiki until someone decides to help me with it. Thank you for your understanding.
Hi all! As you may know, most admins are inactive from this wiki except me now, which will require me a lot of time to edit this wiki by just doing this all by myself. Currently, I have the wiki templates set up already, and I have the total note co…
See more >