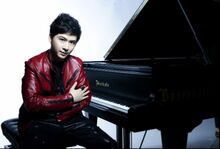 V.K is a Taiwanese New Age composer and pianist from Taipei, Taiwan. 
He started playing the piano at the age of 4 and composing music at the age of 13, which foretold his destiny to take a profession in the field of music. With surprising absolute pitch and strong musical sensibilities, this well-known internet music producer sincerely expresses the sounds of daily lives through piano and music.
Some of the tracks from his piano performing debut album, Reflection and his other albums, Love ‧ Infinity and The 3rd Movement, are playable in Deemo, including his single Paper Plane's Adventure.The piano track, Darkness, is also playable in Rayark Inc.'s game Cytus.
The following songs by V.K feature in Deemo.
Official FB http://www.facebook.com/VKstyle
Official Twitter https://twitter.com/VKstylemusic
Youtube https://www.youtube.com/vkstation
Instagram https://instagram.com/vkstylemusic/